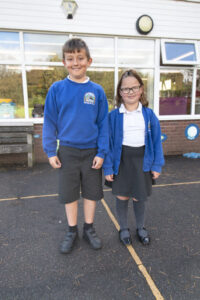 We have a compulsory school uniform at Cheswardine. Children are required to maintain a high standard of personal grooming, wear their uniforms properly, and conduct themselves with respect for the sensitivities of others. Our uniform consists of:
Cheswardine School embroidered sweatshirts
White polo shirts, preferably with the Cheswardine logo
Grey skirts
Grey or black trousers
Summer: blue/white, checked/striped dresses
Grey/black shorts for boys
We expect that children come to school sensibly dressed in suitable flat black shoes.
A change of clothing and footwear is required for PE and our compulsory PE kit includes
Royal Blue shorts
White t-shirt, preferably with the Cheswardine logo
Gym shoes or trainers for outside
Summer baseball cap- white or blue for sunny weather
When buying winter trainers it is helpful if those with waterproof uppers are purchased. PE kit should be kept in a drawstring bag, which is hung on a peg at school.
PE kits are to be brought to school each Monday morning, to remain in school until Friday when they are brought home.
It is of considerable help if all clothing is labelled with the child's name as children are unable to identify lost clothing if it is unmarked. If your child has lost some uniform, please complete a lost property form obtainable from the school office.
Jewellery can be dangerous, and is easily lost, so we ask that, apart from earring studs or sleepers, none is brought to school. All earrings will need to be removed by the child for PE, Swimming and Design and Technology.
Buying Uniform
You can find out more about buying uniform on the uniform shop page of our Parents' Area:
Uniform Shop